Known as the Garden City, Bangalore offers the perfect blend of intense historical and cultural experiences. You might also have heard people referring to the city as the Silicon Valley of India. Its flourishing tech scene boasts over 1000 information technology and biotechnology companies.
History buffs, art enthusiasts, and food lovers are also not left out. The city has something for every traveler. So, if you are looking to escape bustling city life, it's time to grab your passport and get ready to immerse yourself in Bangalore's rich culture and fascinating attractions.
A tour we think you'll love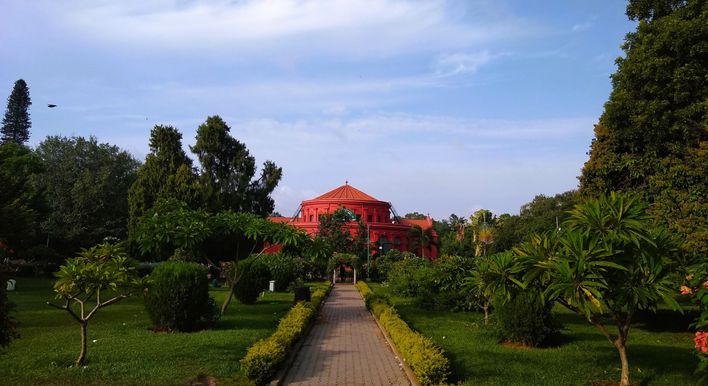 BANGALORE THROUGH THE AGES TOUR
From ₹8,900
View tour
Let's dive into the top nine things to do in Bangalore, India, for the perfect escape.
1) Go On A Shopping Spree On Commercial Street
Which are the best shopping destinations in Bangalore? How about starting on Commercial Street? You'll find a wide array of boutiques, street vendors, and upscale stores, making it a true paradise for shopaholics. Regardless of your taste or budget, you can easily find traditional handicrafts or unique souvenirs to commemorate your trip to Bangalore.
But the populous street isn't just about shopping. There are plenty of exciting things to do in the city.
Explore the labyrinth streets to get a glimpse of the history of the city. Here you'll find plenty of historical monuments and architectural gems telling stories of the past.
If you feel famished, you should add eating at some of the famous eateries as part of the things to do in Bangalore. There are plenty of street food stalls and cafes offering a wide variety of culinary delights.
2) Learn Indian Mythology At Bull Temple
When visiting Bangalore, don't miss adding Bull Temple to your list of attractions. Commonly referred to as Nandi Temple, the iconic temple guarantees an exciting experience for all travelers.
Nandi, the sacred bull of Lord Shiva, is placed enchantingly on the temple's entrance. Curved out of single granite rock, the architectural marvel showcases the skill and craftsmanship of the city's past.
So, if you are looking to learn more about Indian mythology, go for a day tour. There are experts ready to give you more insight into the temple's historical and religious significance.
Other temples you might want to visit:
Halasuru Someshwara Temple

ISKCON Temple

Chokkanathaswamy Temple

Banashankari Temple
3) Get Legendary At Tipu Sultan's Summer Palace
If you want to learn about Tipu Sultan, add this major attraction to your list of things to do in Bangalore India. The rule of the kingdom of Mysore based in South India was commonly referred to as the Tiger of Mysore. Simply because of his bravery and skills that resisted the conquest of the British East India Company in the 18th century.
His summer palace is located near the Bangalore Fort, prime for history buffs and adventurous souls. The palace has stunning architecture and intricate artwork reflecting the grandeur and opulence of the past. Sharing captivating stories of the legendary ruler, you'll learn of his contributions, vision, and role in shaping the region's history.
4) Take A Walk Along Ulsoor Lake's Waterfront
For tranquillity and adventure, you should visit Ulsoor Lake. Take a stroll along the lakeside boardwalk while enjoying the serene ambiance and scenic views. You should know it's the only lake in Bengaluru with multiple islands.
To add on, the lake is also a must-visit for bird watchers. You'll witness abundant species of birds in their habitat. Adventure enthusiasts are not left out on this trip. Hop on a paddleboard or kayak to explore the calm waters of the lake.
5) Sip Creativity At The National Gallery Of Modern Art
When you visit Bangalore, you might need an intellectually stimulating experience, and what better destination than the National Gallery of Modern Art?
The museum has a wonderful collection of over 14,000 beautiful artworks from renowned Indian artists. You will find paintings, sculptures, and multimedia exhibits showcasing world-class artistic expression and creativity.
On top of the art, the museum hosts international exhibitions and collaborations. So, learn, explore, and be inspired by the power of creativity.
You should also know the two-storied building was the former summer house of the Raja of Mysore. So you'll have a field day exploring the colonial-style residential.
Here are some of the famous painters whose artwork is displayed in the museum:
Rabindranath Tagore

Raja Ravi Verma

Amrita Sher-Gil

Jamini Roy
6) Step Into The Past At Bangalore Palace
Do you want to get the royal treatment? You must add Bangalore Palace to your itinerary. The palace features exquisite architecture, intricate artwork, and opulent interiors that reflect the grandeur and elegance of the past.
Passionate experts will take you through the halls and rooms, sharing fascinating stories and insights into the palace's history.
Creating an oasis in the heart of the city, you'll enjoy a stroll in the lush green spaces and well-maintained garden. It makes a perfect destination for weddings. Make your wedding a royal affair!
If lucky, you might catch cultural events and exhibitions showcasing local music, art, and dance.
7) Explore India's Natural Beauty At The Lalbagh Botanical Garden
Another destination worth considering when you visit India is the Lalbagh Botanical Garden, also called Lalbagh. It is located in the city of Bangalore with a history that dates back more than 200 years. The garden was initially planted during the dalavaiship of Hyder Ali and was later managed by the British until the independence of India.
The garden offers a variety of ornamental plants, a recreational space for social events, and an 1890 glass house where flower shows are held. There are two annual celebrations you can consider when planning your visit. On January 26, the garden holds the Republic Day celebration and on August 15, they celebrate Independence Day. Prepare for traditional festivities and a feel of the real India.
The garden also provides an opportunity to spot various wild species of birds and other animals. It is an opportunity to unwind from the hustle and bustle of the city during a guided tour where knowledgeable locals show you every hidden nook.
Hidden Gems Tours specializes in bringing you the most authentic experiences in India. You'll have the opportunity to experience the gardens with an exclusive itinerary carefully planned for your maximum enjoyment.
8) Fill Yourself With The Aromas And Colors Of The KR Market
A trip to India is not complete until you visit a market. India is known for having some of the world's richest variety of spices and other food items. Their culinary scene is renowned worldwide and there's no better place to explore it than in one of their authentic markets. On a guided tour, you will be able to explore this lively market, which dates back to 1928. It is one of the best ways to get a real feel for local life and experience traditional Indian foods.
During a walking tour, your guide will show you some of the most exquisite varieties of local delicacies. You will soak in the sights and sounds of the spirit of the city. The market is not just filled with food. There, you can find jewelry, flowers, and other special items for you to purchase. Meet local vendors and see what the local life is all about.
This is one of the best places to take pictures. The colorful surroundings will make you feel like you're in a movie. And, of course, the best part of the tour is leaving with a full belly! Book your tour with Hidden Gems Tours for one of the best experiences in India.
9) Go Back In Time At The Government Archaeological Museum
When you are not exploring the sights and sounds of the city, check out the historic Government Archaeological Museum where you will find a variety of clayey idols of ancient India. The clay models take you back to the historic times of China's visit to India centuries ago.
Since 1865, the museum has showcased a rare collection of geological and archaeological artifacts. You will see ancient coins, inscriptions, jewelry, sculptures, and much more. Taking a guided tour through the museum will allow you to learn about India's early history. With more than 90,000 visitors each year, the museum continues to attract tourists from all around the world.
Hidden Gems Tours organizes a unique visit to the museum for you so that you can get the most out of your time there. It is a hugely different experience than exploring on your own. Experience India and all its history with our expert tour guides. Book your tour and allow us to do the planning for you. Pack your bags and prepare to see the best of India's hidden gems!
Get Your Bags Ready!
Bangalore, India, offers a plethora of attractions and activities that will satisfy the most adventurous and curious travelers. To make sure you make the most of your time in Bangalore, book your adventure with Hidden Gems Tours.
Our knowledgeable and professional guides have insider secrets to the best things to do in Bangalore. You'll get plenty of insights and stories to enhance your experience in South India.